Charlette Denise Sutton
Biography
Author, Speaker, Songwriter
http://www.mywordsandme.com/
Writing poetry since grade school, she discovered at an early age how comforting words can be in lifting people out of despair and pushing them towards achievement. Each word she writes is carefully chosen to bring meaning and relevance to others. Denise often compares herself to the greeting card magnate, Helen Steiner Rice, as she strives to capture the feeling one gets when they find the right phrase for the right occasion! She has published two books of inspirational poetry, My Words and Me and Do You Know Him? and one motivational book, Seizing Opportunities That Propel You Forward. She has also co-produced several CD's, one titled "Words Can't Tell." She loves to share her words of inspiration and prides herself in being a musician, songwriter, and inspirational speaker.
Where to find Charlette Denise Sutton online
Books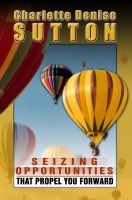 Seizing Opportunities That Propel You Forward
Don't Let the Past Hold You Back One Second Longer Get the most out of life, no matter what has led up to your current position. Smart, savvy, and easy-to-follow, Seizing Opportunities guarantees to highlight the good in your life and kicks can't-do attitudes to the curb. It's all about learning to capitalize on the "big breaks" we encounter every day - but simply fail to recognize.