Charlotte Gehle
Biography
My favorite things in the world are books. I grew up reading and devoured every book I came across. My favorite books have always been children's books, specifically series and fantasy books full of magic and wonder. It was in high school that I started writing and figured out what I wanted to do with my life- write children's books- so I could share some of the magic I loved when I was younger with others.

The Elemental Rise of the Shade is the first book in The Elemental series. I live in Michigan with my husband Ben, and our Dog Sonny, who happens to be the best writing parter a person could ask for!
Where to find Charlotte Gehle online
Books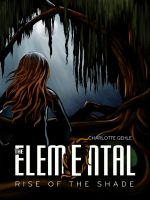 The Elemental: Rise of the Shade
Only one thing can stop the Shade—and that is the Elemental. As the Shade's power grows, so does the need for the Elemental, the person who has the ability to control all of the elements and keep the Shade at bay. Except, there hasn't been an Elemental for a hundred years—until fourteen year old Georgia Bunn is chosen.