Chris Mauns
Biography
Chris is a fun-loving guy who came out on the other side of the madness with both his common sense and joy of living mostly intact.

"Men Are from Mars, Women Are INSANE" is his debut as a writer.

He has some other book ideas brewing though so please encourage him if you are hungry for more! :)

He's happy to say that his current woman seems to be unbelievably sane. Of course, she still has *some* issues but Chris abides.
Where to find Chris Mauns online
Books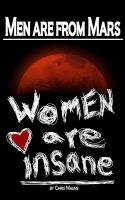 Men are from Mars, Women are INSANE
(5.00)
Does your woman do things that go against all rhyme and reason? Is she a smoldering volcano always ready to explode? And why does she keep on buying shiny things? This little guide to women will teach you how to be in a relationship and still keep at least SOME of your sanity/freedom.