Claudia Dillaire
Biography
Claudia R. Dillaire is a passionate researcher of ancient civilisations, with her primary expertise being ancient Egypt. Her love of Egyptian religious practises has led to the publication of three books on Egyptian magic: Egyptian Love Spells and Rituals (Foulsham, 2005), Egyptian Revenge Spells (Ten Speed Press, 2009), and Egyptian Prosperity Magic (Llewellyn Worldwide, 2011).

When not researching and writing, Ms. Dillaire is a freelance copyeditor and proof reader. She maintains a website for her freelancing (www.ewitchfreelancing.com) and a Facebook page, in addition to a blog for writers, (http://claudiardillaire.blogspot.com). She is currently working on a fourth book on Egyptian magic and the second novel in her Egyptian mystery series.
Books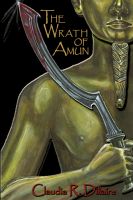 Wrath of Amun
A young woman is found murdered in front of the Temple of Amun, the Chief of the Medjay is anxious to solve the crime. But, when he too mysterious turns up dead. Rameses III must find the right man to keep his capital city safe. He turns to a young soldier who is like a son to him: Qaa. It is up to Qaa to catch a killer, one who will stop at nothing to keep his secrets from being revealed.
Claudia Dillaire's tag cloud