Connie Loya
Biography
Connie Loya is a freelancer writer, poet and e-book author. She has studied requisite courses at The Institute of Children's Literature as well as The Long Ridge Writer's Group in West Redding, Connecticut. Her poem, "Silent Scream," was published in the poetry anthology, The Best Poems and Poets of 2003, "How?" in Clocks Of The Seasons and "Mother Earth" in Dawn's First Light. Her fiction work Blood Reaper is published by ENovelShop as well as her latest project Dementia that will be available next year.
Books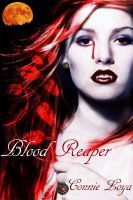 Blood Reaping
By
Connie Loya
Price:
$2.99 USD.
Words: 78,170. Language: English. Published: October 31, 2011. Category: Fiction
Residing in Briarwood Tennessee, a rich Jesse Bloodworth has always struggled to fit in. On his eighteenth birthday Jesse comes to realize everything in his life is a lie as four powerful sage sisters reveal he is from the immortal world of Outland and the elegant Bloodworth family he had worked so hard to impress are vampires.
Connie Loya's tag cloud