D. Arthur Watson
Biography
D. Arthur Watson, username Xunez on Twitter, was born in Chicago and grew up in New Jersey. He graduated from Lehigh University in Bethlehem, Pennsylvania, with a BA in English Literature.
His writing career began as a copywriter for Prentice-Hall Publishers in New Jersey. From there, he moved on to work as a copywriter in the Book Club Division of Doubleday & Company in Garden City, New York, where he later became Editor of the Science Fiction Book Club. He currently lives in Alabama.
In 2010, Twitter reignited his interest in writing. The discipline of the 140-character limit is a marvelous teacher. His future writing interests include novels, flash fiction and poetry.
Books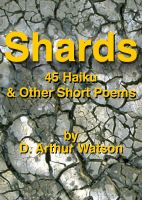 Shards, 45 Haiku & Other Short Poems
Shards is a collection of 45 poems. Most are Haiku, a Japanese form of poem consisting of three lines that contain 5, 7, and 5 syllables. The remaining poems do not follow this form.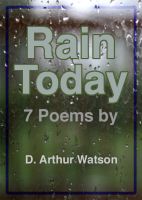 Rain Today
Seven Poems by D. Arthur Watson: Rain Today, For a Passing Acquaintance, Afternoon, Dr. Solomon's Arabian Horses, The Dark, After His Heart and Three. If you enjoy RAIN TODAY, a brief review would be appreciated.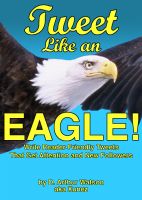 Tweet Like an Eagle!
(4.00)
"Tweet Like an Eagle" is aimed at people new to Twitter who aren't quite savvy yet. It shows how to write reader-friendly Tweets — Tweets that attract attention, get read, draw new followers and retain the old ones. It also has ideas for designing appealing avatars, practicing good Twitter etiquette, and locating helpful Internet sites to improve Tweeting.
D. Arthur Watson's favorite authors on Smashwords