D.C. Smith
Biography
From the moment I learned to read, I loved books.
The emotions and thoughts of the characters in a book can be expressed
so much better that it puts you in the mindframe of the characters.
I am fascinated by angels and like to look at pictures of them as well as
collect figurines of them. I also collect dolls.
I've always wanted to write, and finally decided to go after my dream.
Those things that I love inspired me to write my first novel, The Descended.
I am currently working on my third novel.
Where to buy in print
Books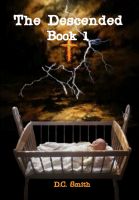 The Descended - Book 1
(3.67)
Sunny Meadows has no family members left after her dearly beloved grandmother dies three months after her fiance had died in a car accident. She decides to leave the life she lived in Boston and live in her grandmother's house when an elderly neighbor befriends her and she falls passionately in love with a local businessman.