Debbie Ryan
Biography
Hi There! I made the conscious decision approximately 6 years ago to start looking into this art of positive thinking to change your life idea - and it was the absolute best decision I have ever made!
I have been married for 29 years and am the mother of two amazing daughters and feel lucky to have two wonderful grandchildren.
For over 25 years I have been employed at the same place, doing the same thing. Don't get me wrong - it has paid my mortgage, groceries and clothes for all of those years while my husband battled it out with mother nature as a farmer - there are good years and bad years with that profession. My job was the stability we needed in order to maintain a consistent income.
There came a point in my life where I knew there had to be something more than the routine I was completing day after day and began the journey into my own growth and self-awareness. Our lives have changed from the daily grind of working full time and looking after a horse farm to living in a bungalow in a bush and being semi-retired!
It continues to amaze me to this day how your own thoughts and feelings can have such an amazing impact on your life. I have tried to impart when I have done to change my world in such a way that others can have the same experience. I hope you enjoy this message in the spirit that I wrote it.
Where to find Debbie Ryan online
Books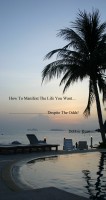 How To Manifest The Life You Want.......Despite The Odds
How To Manifest The Life You Want.....Despite The Odds is how I changed my world through the art of positive thinking - without spending any money - which is a good thing because that was definitely a limited resource. If you are looking for a proof positive way to change your world this is not it - this is how I did it - and hopefully it works for you as well!