Daniel Fife
Biography
I began writing Light & Dark during my years as a graduate student at Ball State University under the major of Counseling Psychology. What began as a simple hobby quickly turned into something more as I found a passion for writing. While carrying the schedule of a full-time student as well as working a part-time job, I devoted myself to write at least one page a day. After graduating, I received the opportunity to begin practicing psychology as a counselor at a local private practice. My devotion to my writing did not waver. Working a full time schedule and maintaining a full complement of clients, I maintained my dedication. A year or so later, I completed the rough draft of Light & Dark and began the editing process, and a process it was. Writing this novel has proven to be a dramatic learning experience, and I am sure that I still have much more to learn. I look forward to this opportunity as I continue to grow as a writer and inspire, you the reader, to join me on this journey.
Where to find Daniel Fife online
Books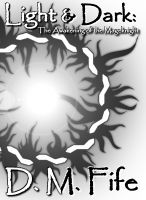 Light & Dark: The Awakening of the Mageknight
(4.14)
Danny Firoth is an average thirteen-year-old who finds himself at the beginning of his eighth-grade year, struggling with some of the more common concerns that plague a boy of his age: bullies, homework, and his mother. Sabrina Drake is the new girl. She is beautiful and spellbinding, but carries a fantastic secret. Together, they begin an epic journey to become Knights of the Light.
Smashwords book reviews by Daniel Fife
Viral Dawn on Oct. 11, 2012

A zombie novel YA readers can sink their teeth into!!! Author, Ann Logsdon, has truly created a good read in the short novel, Viral Dawn. Although, nothing new has been introduced into the zombie mythos, Ms. Logsdon has succeeded in merging just about every traditional zombie aspect that I have encountered, either through literature or film. However, this fact does not take away from the reading experience, but instead enhances it. The main character, Casey, is a strong female lead, supported by a well developed cast of characters. Casey finds herself thrust into a world of flesh eating zombies that tend to only come out at night. However, there are a few subtle hints in the story that there is simply more to them than that. Perhaps they are evolving? If you wish to know more, I suggest you read the book. The work is well written and flows at a nice pace, with a few slow parts that seem to coincide with what Casey is experiencing and feeling. I would have liked a little more action in the story, but it is enough to get you through, connected with bouts of drama and intelligent dialogue. For a zombie novel, the blood and gore are kept to a tasteful level, just right. The end of the story leaves the reader with a heavy cliff hanger, keeping you wanting more. I would most definitely be interested in experiencing more of the world in which Viral Dawn takes place and would recommend this book to the average young adult reader and older audiences.

Dynasty O'Shea on Dec. 01, 2012

A fantasy of two worlds Ever wonder what it would be like to live in two words, one being the monotonous every day drivel of school, chores, and homework, and the other a magical world of witches, knights, and magic. Well, author Clarissa Cartharn has done just that. Dynasty O'Shea is a witty combination of wonderfully written characters in a back drop of an enchanting new world filled with supernatural creatures. The O'Shea's, a family of unlikely heroes, find themselves in the adventure of a lifetime as they must fight across the lands of Spessenia to save themselves, as well as the kingdom of Gammalon. The younger members of the O'Shea family, who have been practicing the old ways in the art of combat, unknowing that they would someday need them for the magical realm of their birth, Spessenia, are forced to do just that as they fight for not only their father's life, the king, but also their own. Dynasty O'Shea is a welcome breath of fresh air with a delightful pace of reading. The pages keep turning and the story keeps getting better. Highly recommended for young adults and older.