DS Palmer
Biography
DS Palmer is an author, sportscaster and History teacher, or three of the most jaded professions under the sun. Furthermore, as a longtime resident of Phoenix, AZ, Palmer has become increasingly suspect of the contemporary pursuit of immediate gratification. His writings draw from each of these caustic wells to create a brutally honest look at ourselves and those around us.

History plays an important role in all of Palmer's works. Indeed, he is a proponent of the idea that History is philosophy taught by example. His writings, whether they be Historical Fiction or set in contemporary times, reflects that effort to enlighten and inspire.
Where to find DS Palmer online
Books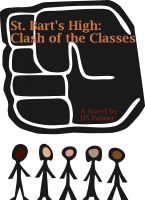 St. Bart's High: Clash of the Classes
Moving from comfortable suburbia to the reinvigorating inner-city wasn't supposed to be a problem for Ruth Tempelton. After all, pretty girls with rich parents and charm fit into every situation. Until now. Now ambition threatens the establishment, parents' traditions are obsolete, survival is a daily goal and there is no worse guilt than by association. It's just another day at high school.