Damon Geller
Biography
Damon Geller serves as CEO of Wholesale Direct Metals and is one of the most respected gold and hard asset managers in the industry. His trend analysis is widely read and quoted, and he is often invited to appear on financial radio and television programs nationwide. Damon's insights are carefully derived from Fed and monetary policy, debt-based economies and the history of money. This background supports his exceptional ability to interpret how current policy frameworks affect numerous investments. Damon doesn't reserve his expertise and trend forecasting for high net-worth clients only; rather he freely shares his views and knowledge with anyone seriously interested in investing in gold and other precious metals. Damon's company, Wholesale Direct Metals, has received the highest marks in client services, delivery time, investment returns and customer service. Damon received an economics degree from The University of California-San Diego. Damon's feature analysis, "Ask the Expert," can be read on his company website, www.WholesaleDirectMetals.com.
Where to find Damon Geller online
Books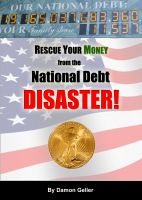 Rescue Your Money from the National Debt Disaster
by

Damon Geller
Our national debt will hit $28 trillion dollars by 2018. Fed policy is destroying your money, your stocks, your savings account, your 401K. But just as the debt has more than tripled in the last decade, so have gold and gas. So if the debt is doubling to $28 trillion, where do you think your money needs to be? Gold has been the greatest hedge against currency collapse for over 5000 years.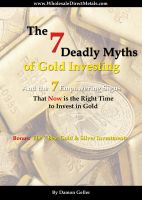 The 7 Deadly Myths of Gold Investing: And the 7 Empowering Signs That Now Is the Right Time to Invest in Gold
by

Damon Geller
Failing to balance your investment portfolio with gold can be deadly to your savings and investments. This book dispels all commonly held misconceptions about gold investing and reveals the 7 empowering signs that now is the right time to invest in gold. As a bonus, expert gold adviser and President of Wholesale Direct Metals, Damon Geller, recommends "The 7 Best Gold & Silver Investments."
Damon Geller's tag cloud