Daniel Whittaker
Biography
My name is Daniel. "A Night to Remember" is my first publication, and I'm very excited, and I have more on the way. Reading, and even movies, have always been a part of my life, so it isn't unexpected that I love to write. Writing for me comes from my experiences, but also from my active imagination. Life has had many ups and downs for me. I was born with blockage in my throat, causing severe obstructive sleep apnea. When I was 18 I received a Tracheotomy to go around the blockage. So the concept of sleep, dreams, and even the ways of fear have seeped into my subconscious. I just hope to not only encourage, but also to entertain people with what I write.
Smashwords Interview
Where to find Daniel Whittaker online
Books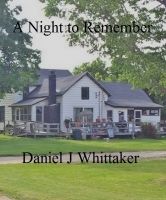 A Night to Remember
Jacob has found himself in a situation. Taking care of a bed ridden man on Halloween wasn't to bad. Steve's family was away for a few hours, but that didn't bother the two. But when the wind started to pick up, the dog started to growl while starring out the window, Jacob did his best to ignore what was going on. Yet when the figures showed up unannounced, his job went beyond feeding.