Phoenix Sullivan
Biography
Over the years, Phoenix Sullivan's short stories have been published under her real name in various pro anthologies and magazines. Marion Zimmer Bradley was her first editor. In the corporate world, Phoenix was a professional writer and editor for 23 years. Before that, she was a registered veterinary technician, working with small animal clinics and wildlife rehab centers.

Retired now - and still in her early 50s - Phoenix blogs at http://phoenixsullivan.blogspot.com, a site to help writers hone their queries and synopses, and a place to show off the beasties on her small farm in North Texas.
Where to find Phoenix Sullivan online
Books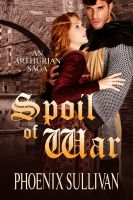 Spoil of War: An Arthurian Saga
(4.50)
"A gripping tale of lust, love and the horrors of ancient warfare. Beautifully written...compelling characters...I was enthralled." -Jennifer Blake, NY Times Bestselling Author / When an invading king seizes Elsbeth for his consort, she must reconcile the actions of the man who desires her heart with those of the warrior king who destroyed her life.