Dave Roos
Biography
Dave Roos has been a sports copy editor and occasional writer for The Courier-Journal in Louisville, Ky., since 1983 after previous stints with the Colorado Springs Gazette-Telegraph and the Fort Wayne Journal-Gazette. He's a 1973 University of Kentucky graduate with a bachelor's in zoology and a 1975 University of Missouri graduate with a bachelor's in journalism. He lives in Louisville with his wife Kathy, daughter Mary, dog Oreo and about 500,000 honey bees, give or take a drone.
Books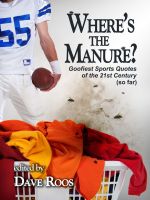 "Where's the Manure?"/Goofiest Sports Quotes of the 21st Century (so far)
By
Dave Roos
Price:
$2.99 USD.
Words: 30,200. Language: English. Published: June 6, 2012. Category: Nonfiction
Dave Roos has been collecting and collating this odd assortment of sports quotes since the turn of this century for his day job – OK, make that night job – as a sports copy editor for The Courier-Journal in Louisville, KY. They come from superstars, has-beens and hangers-on throughout the sports universe, proving you don't necessarily need crazy skills to say crazy things.
Dave Roos's tag cloud