David Staume
Biography
DAVID STAUME is a philosopher, secular humanist and public speaker. He is a member of rationalist and freethinking associations, is studying at the University of London, and can be contacted via the website www.modernphilosophy.com.
Where to buy in print
Books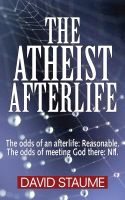 The Atheist Afterlife
THE ATHEIST AFTERLIFE: The odds of an afterlife: Reasonable. The odds of meeting God there: Nil. "Entertaining and well reasoned." THE ATHEIST AFTERLIFE describes an afterlife consistent with known law and requires nothing more than physics. It demonstrates that an afterlife is possible based on reason, and supports the probability of an afterlife with an original and testable support for dualism.
David Staume's tag cloud