Dawn Duncan Harrell
Biography
Dawn Duncan Harrell, MDiv, has served as a spiritual director, teacher, and lecturer on prayer at The Park Street Church and Boston Rescue Mission, both of Boston, Massachusetts. She is former Associate Editor of Church History, Gospels, and Practical Theology for Hendrickson Publishers. Now while her daughter plays at preschool, she continues to write and ministers in a lay capacity at Colonial Church in Edina, Minnesota. You can follow her at twitter.com/dwndncnhrrll. You can contact her, write about your own experiences with prayer, or read more about her prayer adventures at tenwaystopray.com.
Where to find Dawn Duncan Harrell online
Books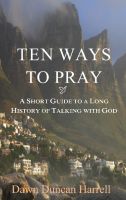 Ten Ways to Pray
Praying, rather than reading about prayer, is the goal of Ten Ways to Pray. Here each chapter supplies the story of one historic saint and a description of his or her approach to being with God. The bulk of the chapter explains how to work each method, how to try it if there isn't much time, and how to adapt the practice to a group. Study questions and further resources conclude each section.