Deirdre Maultsaid
Biography
Deirdre Maultsaid is working to become a master of surprise reversals and ambivalent endings. She has won writing contests from Prairie Fire and Rippleeffect Press. She has been published in arts-informed, Canadian Women's Studies, Contemporary Verse 2, the Danforth Review, Other Voices, Moxie, Prairie Fire, the Southern Cross Review, anthologies by Rippleeffect Press and Rowan Books, and in Double Lives, a well-reviewed anthology of women writers, from McGill University Press. Her book of essays, These Blessings, This Crisis: Essays, is available from www.trafford.com and Amazon.ca. Deirdre Maultsaid ha publicado cuentos en español en The Barcelona Review, and The Southern Cross Review. She lives in Vancouver, British Columbia and works in education.
Where to find Deirdre Maultsaid online
Where to buy in print
Books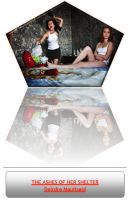 The Ashes of Her Shelter
The Ashes of Her Shelter is a lyrical novel, with "home" as a strong motif, about the bond between sisters, told from the unreliable viewpoint of an activist, Christine, who loves with a twisted loyalty her conventional sister Leigh-Anne. Christine by accident leads Leigh-Anne into danger and fails to protect her from bad relationships with men. The novel shows the West Coast in the 70s and 80s.