CB Brooks MD
Biography
Physician specializing in Orthopedic Surgery, Microsurgery of the Hand, Wrist and Upper Extremity. Has been known to reattach amputated body parts, if requested.

Firefighter who went from volunteer to certified firefighter, driver-engineer, lieutenant, captain, assistant chief, dive rescue team leader, safety officer, fire instructor, and three time president of fire-rescue volunteer associations.

Police Officer who actually liked road patrol, bicycle and marine units, capturing aggressive drivers, and teaching young people about conflict resolution, anti-bullying, personal safety, alcohol and drug strategies, and decision making skills.

Scuba Divemaster and founder of fire-rescue dive team. Always amazed at the undersea world and its creatures – especially the big ones – whale sharks, great whites, manta rays, schooling hammerheads, whales and dolphins of all types are personal favorites. Has dived the Caribbean, South Africa, Australia's Great Barrier Reef, South America's Galapagos Islands, Micronesia, Hawaii, and lovely dark water accident and crime scenes.

Golfer on an elusive quest to "just get consistently decent" at this loopy game. Likes the scenery, nature, walking with interesting people. Has had two holes-in-one so far, anticipates more. Started as a caddie, became a part-time greenskeeper later in life. Teed it up in Scotland, England, and Ireland. Has strongly advocated that the hole be doubled in size; hasn't heard back yet on this from the USGA, or the Royal and Ancient.

Comedian, amateur, has never been paid. Standup, skits, event emcee, charity auctioneer, valedictorian – no weddings or birthday parties please.

Miscellaneous bonus careers: Fancy doorman, gas station attendant, drummer in a bagpipe band (awesome!), lifeguard, janitor, mechanic's helper, airport limo driver, nocturnal office cleaner, others I can't remember.
Where to find CB Brooks MD online
Books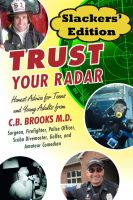 Trust Your Radar Slackers' Edition
(5.00)
Attention all slackers. We know you just can't read a full length self-improvement book. And you don't want your slacker friends to see you carrying a physical book around. So here's the Slackers' Edition ebook of Trust Your Radar. Same real world advice, just in a short, easy to read, easy to hide format. You won't get the fun stories of the full version; but you will get the message.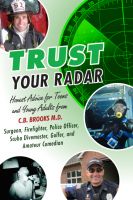 Trust Your Radar: Honest Advice for Teens and Young Adults from a Surgeon, Firefighter, Police Officer, Scuba Divemaster, Golfer, and Amateur Comedian
(5.00)
Goal: Help young adults avoid the major sand traps of life! Target audience: Ages 14 – 40 and parents. Trust Your Radar provides clear information and practical solutions, delivered with memorable, entertaining, and fun stories from the author's varied careers. "Distills everything young people need into one plain-spoken, fun to read format." Parents: You want your kids to know these things!