Des Zamorano
Biography
Desiree Zamorano has wrestled with culture, identity, and the invisibility of Latinas from early on. Her commentaries have appeared in the LA Times and NPR's Latino USA. She delights in the exploration of contemporary issues of injustice and inequity, via her mystery series featuring private investigator, Inez Leon.

Her novel THE AMADO WOMEN, is about four women, linked by birth, separated by secrets. Spring, 2014, Cinco Puntos Press.

A lifelong reader, writer and educator, she is proud of having co-authored with her sister two plays commissioned by southern California's Bilingual Foundation for the Arts. Equity productions, "Reina" and "Bell Gardens 90201" toured for a total of eight years. A Pushcart prize nominee, and award-winning short story author, her novel MODERN CONS will soon be released as an ebook from Lucky Bat Books.

MODERN CONS: "Family inflicts the deadliest cuts in this compelling psychological thriller. Desiree Zamorano is a writer to watch."
-Dianne Emley, L.A. Times bestselling author
Where to find Des Zamorano online
Videos
Human Cargo and Guerilla Reads
At the Pasadena Literary Festival, Desiree reads from her novel, HUMAN CARGO
Books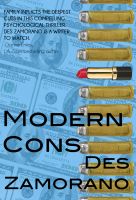 Modern Cons
What would it feel like to be raised by a skilled con artist? Would you know when she was pulling a con on you?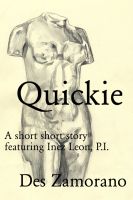 Quickie
When PI Inez Leon takes an instant dislike to a lech, watch out!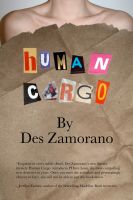 Human Cargo
Dynamic, Hispanic PI Inez Leon teams up with Kiril Levertov, gaining access to Pasadena's Russian community in order to find a missing family. She uncovers a culture of underground nightclubs and virtual slavery, as well the high price of a passage into this country. It's up to Inez to find and free the trio.