Daniel Thomas
Biography
Dr. Daniel Thomas has been in the ministry for thirty years. He is married and holds a BA in Bible and Systematic Theology from Southeaster College of the Assemblies of God, an M.Div from Beeson Divinity School, Samford University, and a D.Phil in Theology and a D.Litt from St. Alcuin House Seminary (Anglican). He is also the author of The Beatitudes: The Way of the Kingdom published by Borderstone Press (http://www.amazon.com/The-Beatitudes-Daniel-Thomas/dp/1936670011/ref=sr_1_1?ie=UTF8&qid=1349863227&sr=8-1&keywords=daniel-thomas-beatitudes).
Where to find Daniel Thomas online
Where to buy in print
Books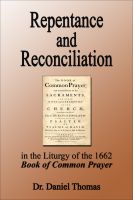 Repentance and Reconciliation in the 1662 Anglican Liturgy
The liturgy of the 1662 Book of Common Prayer follows the ancient patterns of Jewish and Christian liturgies. The remarkable quality of the liturgy in the Book of Common Prayer is the biblical model that is its foundation. The model used is the biblical story of the Prodigal Son. The result is that there is a focus on repentance from sin and reconciliation to God.