Dominique LeSane
Biography
Dominique LeSane loves writing romance and erotica. She has ghostwritten several novellas and short stories for several publishers. She has also written and published The Housewife Diaries (Arrow Publications), an anthology that opens up about women seeking their sexual freedom and satisfaction. Dominique loves writing from a woman's perspective and has a following of readers who love her work due to her ability to portray genuine characters in relatable situations.
Dominique LeSane welcomes you into her world of romance and erotica. She loves the challenge of stretching her imagination to continue to bring her readers stories that not only heat up their bedrooms, but bring fire to their soul!
Where to find Dominique LeSane online
Books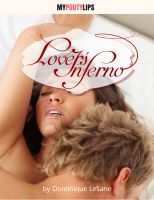 Lovers' Inferno
Read on and learn about the kinky side of Lexi — a career minded woman involved in a murder case — and the wonderful discoveries she makes in her intimate life. She will soon find herself bathing in a sea of lust in the lovers' inferno...