Dorit Kedar
Biography
Forced to continuously change nations, cultures and schooling - I had to develop a wider sense of communication, a way of thinking-feeling-behaving which stresses the common denominators. The need to adapt new landscapes and landsouls has taught instinctive means to overcome separatism, prejudices, dogmatic beliefs and suspicions. While looking for the common gathering denominators, I have also increased the ability of perception and individuation. Being constantly in estranged places has triggered psychological processes to turn the unfamiliar into familiar. As an art critic in the Israli press, a curator, a writer - have always dealt with the otherness, the different and the infinite variety of the Existent. My Book of Peace is the result.
Smashwords Interview
Where to find Dorit Kedar online
Books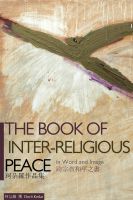 The Book of Inter-religious Peace in Word and Image
The Book suggests evolving the Wisdom of the Heart by considering the life of the great mystics and their appreciation of God's fingerprints in Nature. One may, therefore, cultivate the Way of Love, unconstrained by comparison, hierarchy, and pre-concepts, usually existent in territorial thinking.