Doug Dziama
Biography
Doug Dziama is a life-long Ohio resident. He graduated from Bowling Green State University with a degree in Radio and TV Broadcasting and a minor in Journalism. His stories have appeared in Over the" Back Fence Magazine" and "Paranormal Pennsylvania and Beyond Magazine."
Doug and his wife Karlene have enjoyed over three decades of marriage. They have two daughters, Susan and Jennifer, and three grandchildren, Sahana, Charlie, and Megan. In his spare time Doug enjoys reading, vacationing, listing to music, entertaining by his backyard pool, and, of course, writing.
Books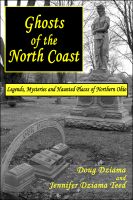 Ghosts of the North Coast: Legends, Mysteries and Haunted Places of Northern Ohio
From Lake Erie monsters to cursed Carousel horses to haunted wineries, Doug Dziama and Jennifer Dziama Teed explore some of the mysteries, legends and ghost tales of Northern Ohio. They delve into exorcisms, research a haunted fort which is also a massive burial ground, and discover the truth behind the infamous urban legend of Gore Orphanage.
Doug Dziama's tag cloud