Doyle Matthews
Biography
Mr. Matthew's several years living and working overseas in both the U.S. Foreign Service and with civilian companies has provided the experience and background for his stories. "The Revenge of Axel Trink," his first book (pen name, Mitch Vladimir) now in publication draws on his experiences in the Foreign Service. While working as an engineer he has traveled to over sixty countries, and has lived in such diverse places as Eritrea, Japan, Kenya, Pakistan, and Germany during which he has studied writing. These days he spends his time between California and Thailand and while in Bangkok he can be found on a long-boat traversing the Khlong Saensaep, the locale for his next book.
Where to find Doyle Matthews online
Where to buy in print
Books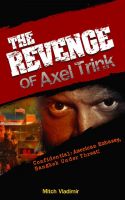 The Revenge of Axel Trink
It is 1980, and the security of the American Embassy in Bangkok is under threat - from one of its own… Diplomat Axel Trink's career is tainted with wrongdoings and an obsession with gaining revenge on his boss , Josephine Bateman, who years earlier took advantage of him to jump-start her own Foreign Service career.