Ernest Llynn Lotecka
Biography
For several decades, Ernest Llynn Lotecka has been involved with quality of life enhancement as a success coach, psychosocial counselor, development researcher, program director, and managerial consultant. His degrees are from Drexel University (Bachelors Commerce & Engineering Management), University of Pennsylvania (Masters Psychology), and Union Institute Duquesne University (Doctorate Social-Clinical Psychology). He has worked for a wide variety of individuals, couples, and families; for local, state, and federal agencies; and for small, medium, and very large businesses
Books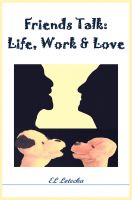 Friends Talk: Life, Work, and Love
Friends talking about challenges and successes that include new involvement, anger control, activity, sleeping, confidence, self-esteem, game limits, dating- relationships, focus-memory and empathy (#1-11 Series).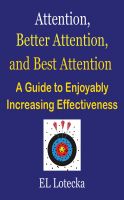 Attention, Better Attention, and Best Attention: A Guide for Enjoyably Increasing Effectiveness
This is a compact personal guide and training program. Well-proven methods assist in uniquely clarifying attention, actively engaging intention, and strongly supporting success. Through focused thinking, feeling, sensing, and imaging practice, out-dated habits can be changed into new action patterns for reaching goals.