Erich Scharf
Biography
Erich Scharf was born in Vienna, Austria in 1922. He and his family lived under Nazi occupation from 1938 until they escaped to the United States in 1939. After the US entered the war, he was drafted into the military and joined the Rangers, and then became a member of the First Special Service Force as an interpreter and interrogator of German prisoners.
Where to find Erich Scharf online
Books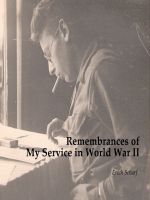 Remembrances of My Service in World War II
(5.00)
An autobiographical memoir of service in the Rangers and First Special Service Force a/k/a "The Devils Brigade" in World War II. A link to a private photo collection from WWII is included.