Ed Dantes
Biography
Ed Dantes is an Australian citizen, born in April 1960. He was so ugly that his mother first thought that she had the wrong baby and wanted to send him back. However, the doctor said that was not an option and a face transplant was not possible either, so she persevered and focused on his education. Ed left school at aged 16, worked for 4 years to save money and then paid his own way through university. In 1988, the author graduated with a science degree from the University of South Australia, but went on to graduate with an MBA and two masters degrees at other Australian universities. In 2000, Ed moved to Japan, where he currently still resides (possibly still trying to save up enough money for that face transplant).
Books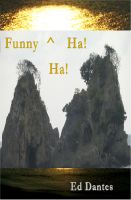 Funny Ha! Ha!
By
Ed Dantes
Price:
$4.25 USD.
Words: 26,840. Language: Australian English. Published: August 21, 2012. Category: Fiction
'funny ha! ha!' represents two stories: an aged woman terrorizing the neighbours, and two ghosts who relate the story of how they died. in 'terror jihad o'hara', after chen migrates to england his life is forever changed. lock your door, because jihad o'hara might come to live in a town near you! in 'i die for you', a tramp with alzheimer's, and a doctor cannot even agree on the color of the dog!
Ed Dantes's tag cloud