Braun McAsh
Biography
Braun McAsh has been an award-winning professional actor and fight choreographer since 1976. He is best known as the Swordmaster for the TV series HIGHLANDER for its last four seasons. His previous book, FIGHT CHOREOGRAPH - A Practical Guide, is available from Crowood Press in England through Amazon. He has also written extensively for newspapers and magazines.
Where to find Braun McAsh online
Books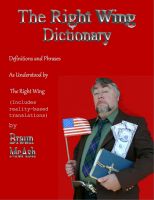 The Right Wing Dictionary
Ever notice that the political right wing seems to be speaking a different language from the rest of us? The Right Wing Dictionary takes you through definitions of words and terms as understood by the political Right with additional definitions for those who live in the real world. A humorous and satiric look at the language and world as filtered through the ideology of the political Right.
Braun McAsh's tag cloud