Elizabeth Ann Parker
Biography
I was in a DV marriage for 13 1/2 years. When the marriage ended, the DV continued through proxies (attorneys, CPS, courts, the 3rd wife of the abuser). The child is currently under a court order to live in the abusive home and has been denied access to the safe parent since May 11, 2011.

The change in custody includes the child being transferred from one of the best schools in the state to one of the worst in the country. --When an abuser brings a PAS accusation, "the best interest of the child" is completely bypassed.

This book is biographical. For safety reasons, I fictionalized the names of the people and the locations.
Where to find Elizabeth Ann Parker online
Videos
Richard Gardner and PAS
This video has information about Richard Gardner and his PAS theory. The information about PAS is not new. Significant information dating back to... 1978, 1996, 2003, 2006, 2009. It all leaves me baffled as to WHY PAS is still being used to destroy children's lives today.
Books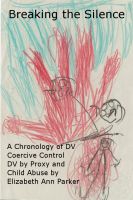 Breaking the Silence
This is a true chronology of actual events involving DV and child abuse. It is not fabricated; or a conglomeration of more than one woman's experiences. This is taken from records submitted to the court in a case that is really happening in America in 2011. 100% of the proceeds from the sale of this book will be used to help current victims of child abuse. This is the first book in the series.