Emma L Dickenson
Biography
I am a 29 year old singer/entertainer living in Spain. I have been an avid reader all of my life. Thanks to my chosen profession I have traveled quite extensively and so have experienced a varied and interesting life so far. I am a very spiritual person and have a keen interest in Eco and environmental issues.
I love animals and share my home with pigs, cats, dogs, chickens, tortoise and birds to name but a few!
I believe that we need to educate children about the environment much earlier in their lives than we do. If we teach them young hopefully they will carry the good habits they learn and also a proper respect for the planet we live on throughout the rest of their lives.
Where to find Emma L Dickenson online
Books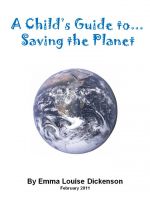 A Child's Guide to Saving the Planet
How do we begin to teach our children about the devastating effects Humankind has had upon the Earth? If we don't find a way, how can we teach them to repair it? A young persons introduction to many global environmental problems and how we can all be part of the solution.