Etherer Daz
Biography
: traverses the ethers, taming unruly words and wayward sentences. An inkist by trade, the etherer additionally fills the tank of her skycycle working as an imagist. It is hoped you'll contain yourself whilst reading the writs. Do not inhale the words too quickly. They are rich and prepared with a more savory experience in mind.
Where to find Etherer Daz online
Books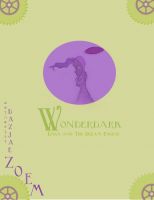 Wonderdark: Dara and the Dream Engine (ARC edition)
Registry Alert S24 Your attention is required etherers, rogues, and skywaypersons. A leaf has emerged with very interesting information about the eighthling Dara, and it specifically mentions us.
Etherer Daz's tag cloud