Graham Hughes
Biography
Graham Hughes is a freelance writer, proofreader and editor based in Chester, England. He is the author of the ebook A Devilish Pastime, a history of all forms of football – originally published in print (as A Develyshe Pastime), by Sportsbooks in 2009. He has also contributed to the When Saturday Comes magazine, and to websites such as TimeTravel-Britain.com, Buzzle.com and eSports Media Group.
Where to find Graham Hughes online
Books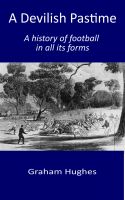 A Devilish Pastime: A History of Football in all its Forms
Where did football come from? How did it get to be so popular? And why can't we, across the English-speaking world, even agree on what the word 'football' means? This book looks at how the modern sports of soccer, rugby, American/Canadian football, Gaelic football and Australian Rules evolved from games played in the distant past.
Graham Hughes's tag cloud