GG Koe
Biography
GG Koe is the pseudonym of a Kootenay boy, born in Edmonton, AB and raised in Nelson, BC. This is where he came to love the outdoors and dreamt of adventuring. He has pursued an avid life of exploration and travel, and loves the wilds of British Columbia. He has an interest in Celtic folk lore, also reflected in his writings.

His first novel, The Ring of Light, was published in 2014, and he is currently working on The Golden Ring in this series, with The Iron Ring to be released in the fall of 2014, and The Silver Ring, to be released in the spring of 2015. He has written numerous professional articles, and plays a lvl 90 Horde Mage and a lvl 90 Alliance Warrior on the World of Warcraft.

Since his retirement, he currently lives with his wife in Mission, BC, where he pursues his passion in writing.
Books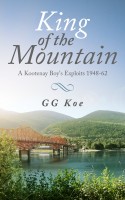 King of the Mountain
The year is 1948 I'm 4 years old, and have run away from home for the first time on my quest to become "King of the Mountain". Based on the actual antics of a young boy and his friends, "King of the Mountain" offers an autobiographical experience of growing up in the West Kootenays between 1948 to 1962.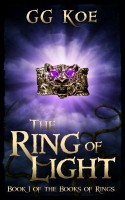 The Ring of Light
By
GG Koe
Price:
$1.99 USD.
Words: 92,470. Language: English. Published: June 10, 2014. Category:
Fiction
»
Fantasy
»
Epic
The first of five books in a fantasy adventures series about a half elf and his companions in the land of Azwyr. It is prophesized that in order to save the land there are two rings: one to be found and one to be won; two must venture and one return. This book is the story of the first ring.
GG Koe's tag cloud