Gordon Emmerson
Biography
Dr Gordon Emmerson is an Honorary Fellow in the school of psychology at Victoria University, Melbourne. He is the author of the books 'Ego State Therapy' (2003, 2007, 2010), 'Advanced Techniques in Therapeutic Counselling (2006, Crown House), and Healthy Parts Happy Self (2012). He authored Ego State Personality Theory (2011), and has developed techniques for working with many psychological conditions. His conceptualisation of Vaded Ego States has defined how to work with addictions, OCD and trauma. As a registered psychologist and member of the Australian Psychological Society, he has published a number of articles on Ego State Therapy and has conducted and published clinical research on its efficacy. Dr Emmerson has conducted numerous ego state workshops in Australia, South Africa, Germany, the UK and in the US, and he makes keynote conference and convention addresses on the therapy. He provides Foundation and Clinical Qualification training in Ego State Therapy.
Where to find Gordon Emmerson online
Where to buy in print
Books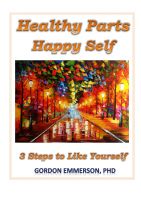 Healthy Parts Happy Self
Do your emotions get in your way? Are there times when there is a battle on the inside? When our inner parts are at peace and when they all feel safe and supported we can be our true selves. There is no better gift to give ourselves and our friends. By knowing our parts we know ourselves by and healing our parts we feel good about who we are.