Grace Thompson
Biography
Grace Thompson is an eleven-year-old 6th grade student at Gerald McShane. There's a Monster Under my Bed, was written because I used to think there was a monster living in my room. The moral of the story is not to jump to conclusions, unless you have proof.

Bonjour, mon nom est Grace Thompson. J'ai onze ans et je suis une élève de l'école Gerald McShane. J'habite à Montréal–Nord. Je suis dans la classe 6B. Je me suis inspirée de mon amie Rosie. Le livre parle des meilleures amies.
Books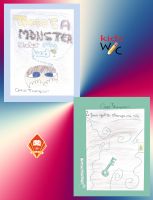 There's a Monster Under My Bed & Le Jour Qui a Changé Ma Vie
A new category of books launched by the 99 Series, LLC; children stories written by children. Kids books by kids, captures the heart and the imagination of a child. Through these books and the KWC™ literacy, anti-bullying, and other issues that affect our youth are told in their own words.
Grace Thompson's tag cloud