Greg Benage
Biography
Greg Benage lives with his wife, Maria, in Atlanta, Georgia. When he's not creating stories, Benage creates spreadsheets and PowerPoint presentations as a product manager for one of the largest commercial banks in the U.S.

Writing as Cameron Haley, he is the author of The Underworld Cycle, an urban fantasy series from Luna Books. MOB RULES, SKELETON CREW and the novella "Retribution" in the HARVEST MOON anthology are available in print and digital at fine bookstores everywhere.
Where to find Greg Benage online
Books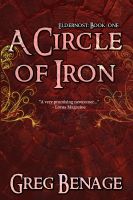 A Circle of Iron (Eldernost: Book 1)
Given a choice between the hangman's noose and the fallen city of Eldernost, bounty-hunter Caleb Thorn is forced to venture into the ruins to confront the notorious wight raider known as Redmourn. Amidst the crumbling remnants of a lost age, Thorn must face the demons of his own troubled past if he is to find the strength to protect those he cares about most.