H.K. Vessels
Biography
H.K. Vessels lives in Indiana, U.S.A. She is a teacher of history, writing, literature, and drama by day, and she is an author, runner, singer, actress, director, and sculptor by night. She is supported by her husband, sons, and dogs, and she spends her personal time immersed in books and movies.
Where to find H.K. Vessels online
Books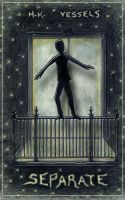 Separate
After committing suicide, Andy is banished to the Shadow Void, a parallel realm where shadow spirits must live a life apart, neither dead nor alive, until their true time of death. Andy's isolation drives him to exact revenge on his enemies, but the love of a rare medium who can sense his presence may change his destiny.
Smashwords book reviews by H.K. Vessels
Smashwords Style Guide on Nov. 25, 2012
(no rating)
I cannot thank you enough for writing this guide. I could not have submitted without it!