Scarlet Hardy
Biography
I am a writer and an artist that likes to look at the lighter side of life. Humour and comedy are my main interests along with a few political ideas and concepts thrown into the mix. My personal slant on life produced a series of books that are quite unlike anything else presently on the market. I hope to spend the rest of my life just playing with simple words and creating new works of art direct from my own imagination. My aim is to produce an enjoyable series of books that entertain the reader without using offensive words, or phrases. I hope to make people smile and to encourage other people to use their imagination to tell a few twisted tales of their own.
Books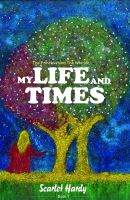 The Princess and the Warrior: Book One - My Life and Times
Scarlet Hardy was born in Carlisle and at the age of 18 she moved to London. In 1994 she moved to Plymouth where she studied at Plymouth University. Scarlet is a civil servant who enjoys writing and painting in her spare time. Scarlet lives in Plymouth and she has three grown up children. Scarlet hopes to continue writing books for many years to come.
Scarlet Hardy's tag cloud