Hillary Duncombe
Biography
Hillary Duncombe grew up on along the picturesque island of Nassau in the Bahamas. Fascinated by a civilization filled with British colonial and distinctive Bahamian influences, it is fitting that she resolved to express her perspectives through writing.

Hillary writes poetry, short stories, screenplays, children's tales, and various writing genres. In 2011 her desire to write lead her to enroll at Full Sail University where she pursued a BA in Creative Writing.

Although Hillary is well versed in many writing techniques her most memorable writing experiences are when she composes poetry. In her recent piece "Thoughts From The Soul" she bares the innermost regions of her being. Her motivation to create such a piece was to decipher what seeps from the pores of her soul and share it with others who can connect.
Books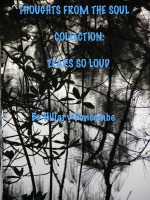 Thoughts From The Soul Poetry Collection: Tears So Loud
The character in "Tears So Loud" is experiencing an emotional breakdown. Life seems to be unbearable, no matter the endeavor. Every attempt made to fulfill a void result in a dead-end.
Hillary Duncombe's tag cloud