Archie Hoagland
Biography
Archie J. Hoagland was born in Nebraska City, Nebraska at the height of the Great Depression of 1932. He grew up in the farmlands of Nebraska, Oklahoma, Colorado, Utah and Oregon. He's a member of the Society of Southwestern Authors and is the facilitator of a critique group, The Green Valley (Arizona) Writers' Forum. Archie also is a retired businessman, a fortythree year member of the BPOE and a sculptor who works in terra cotta. Although proud of his time as a combat veteran in the Navy, Archie has worn several other hats. As an author, he's had two poetry collections published — The Collection, a volume of over 500 pages, and a much shorter collection, Sartor's Poetry. His first novel, a crime/fiction novel with a sub-plot of mystery , The Mystery of Sorrows, is soon to be released in early 2014.
Where to find Archie Hoagland online
Where to buy in print
Books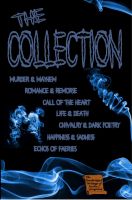 The Collection
Designed to take the reader away from the world in which we live. Here, you escape the glaring lights and noisy atmosphere of reality, delve into the heartbreak of love, the sad beautiful onslaught of death or enter the realm of Faeries. Take this book when you want to get away from it all, to be alone—forgetting the familiar path of your life and look into your soul. 315 rhymed & metered poems.