Honoria Ravena
Biography
Multi-published author, Honoria Ravena, lives in north Texas with her parents and a grumpy cat. She is a part-time college student, who when not writing, enjoys yoga, belly dancing, a growing addiction to cosmetics, and reading. Visit her at www.honoriaravena.com.
Where to find Honoria Ravena online
Books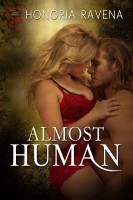 Almost Human
When Alaric's brother turns Casey, the daughter of a prominent vampire hunting family, Alaric knows they're all in deep trouble. He'll do anything to keep his family safe, even if it means murdering Casey's sister before she kills them all. His sister-in-law's family will never stop hunting them now.
Honoria Ravena's tag cloud