Susan Lenart Kazmer, LLC
Biography
For more than twenty years, Susan Lenart Kazmer has been a professional artist, award-winning metal smith and fine art jeweler. An internationally-known instructor who's been teaching mixed media techniques for the past twelve years, she is the creator of ICE Resin®, an ultra clear jeweler's grade resin.
Susan is the author of Making Connections: A Handbook of Cold Joins for Jewelers and Mixed Media Artists and two DVDs by Interweave Press, "Metalwork" and "Exploring Resin in Jewelry Making." She's also the creator of Industrial Chic™ by Susan Lenart Kazmer,™ a successful charm and jewelry component line exclusive to Michaels. Her newest book on resin jewelry is due out next Spring by Interweave Press.
Susan has been featured with the American Fine Craft Council and presented the 2006 award of "Most innovative use of the medium" from Robert Lui of Ornament magazine. Her work has been included in museum exhibits throughout the country, such as the Smithsonian in Washington D.C. and the Art Institute in New York. To learn more, visit www.susanlenartkazmer.com. See her company website at www.iceresin.com
Where to find Susan Lenart Kazmer, LLC online
Books
Imagine Create Explore Volume 3: Home Decor
Your home is a reflection of all that you care about. These mixed media projects will inspire your personal statement in the rooms where family and friends gather, where you lay your head to rest, and where you bake. Decorate your life with the 16 inspirational home decor pieces created by Susan Lenart Kazmer's ICE Resin® Creative Team.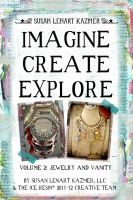 Imagine Create Explore Volume 2: Jewelry and Vanity
Do you recall sitting at a loved one's vanity and discovering a plethora of beauty—brushes, mirrors, jewelry and sentimental trinkets, treasures that created memories within your heart and mind for a lifetime? These 15 amazing mixed media jewelry and vanity projects offer up a dollop of inspiration and a bounty of grandeur to accompany you on your creative journey.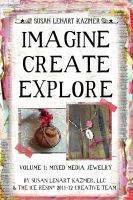 Imagine Create Explore Volume 1: Mixed Media Jewelry
(3.00)
The 15 jewelry projects in this book chronicle an affair with the shiny, the delicate, the found object renewed, and will whet your craving to mix medias and impress your own artistic statement on bling to wear or give as a gift. Wherever you are on your creative journey, these amazing rings, earrings, and necklaces, designed by the 2011-2012 ICE Resin Creative Team Members, will inspire you.