Ida and Emily Fiorella
Biography
Ida (Thin) is in her 25th year as an elementary school teacher. Being the same size for ten years (and counting), along with following a healthy eating plan, has allowed her to enjoy a happy life with her husband, 3 grown daughters, 6 grandchildren, live-in parents, family and friends, as well as her active fourth grade students.

Emily (Thinner) has been on a diet since the fourth grade. She is very grateful to have found a plan that allows her to be thin, while still having the energy needed to be successful in her career. She has been working in the real estate industry for the last 7 years and is planning her wedding for 2012 with great excitement.
Where to find Ida and Emily Fiorella online
Books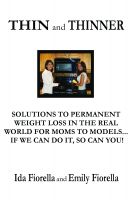 Thin and Thinner
(5.00)
Thin and Thinner offers solutions to permanent weight loss in the real world, with practical strategies for effectively losing weight and keeping it off for life. By controlling the type of carbs consumed, two options for weight loss are outlined, with the goal of being thin, or thinner. The book is filled with detailed meal plans, life experiences, delicious recipes, and much more.