Irene Tomkinson
Biography
Irene is a successful therapist, born teacher and communicator. She and her husband, David, have run their New Hampshire retreat and counseling center, Pathways to Personal Growth for over 25 years. Together they have empowered thousands of people. Irene through humor and her powerful story of recovery and spiritual unfoldment is able to give complicated psychological constructs a language that is easily understood. Go to www.irenetomkinson.com meet Irene through video and read what her clients and workshop participants have to say about her.
Where to find Irene Tomkinson online
Where to buy in print
Books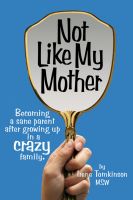 Not Like My Mother - Becoming a sane parent after growing up in a CRAZY family.
(4.00)
"This is a "how to" manual that reads like a smart funny novel. Get ready for a wisdom ride." - Nancy Slonim Aronie – Author of WRITING FROM THE HEART/ NPR commentator Have you ever said I am not going to do to my kids what my parents did to me? Being the parent you always wanted is not necessarily the parent your kids need. Become the parent your kids need and heal your history.