J. A. Crook
Biography
Unimpressed with the recent developments in horror writing, focused on the supernatural and incessant, graphic gore, J. A. Crook seeks to define himself a cultivator of a new direction in the horror fascination. Inspired by the mystery and science of H. P. Lovecraft, infused with the poetic darkness of Edgar Allen Poe, mentored by the American realism of Stephen King and ambitiously challenged to promote "real fear" in an era of skepticism, the stories that derive from the thoughtful mind of J. A. Crook are undoubtedly thought-provoking. J. A. Crook dabbles in the immense (and very possible) terror of the distorted human psyche and wades through the poetry of natural beauty with a dark affinity for how the natural, or what is, often can construct monstrosities so terribly frightening, the most brilliant imaginative minds could not compare. Horror, to J. A. Crook, should not incite only fear, but should shade the epidermal lines of what we consider beauty. Horror should charm the same way that it incites terror, or should teach of concepts that are philosophical and mostly unknown. Horror is more than scaring people to J. A. Crook, it is unified delving into the parts of our minds that are the most treacherous, least hospitable, and sometimes outright terrifying.
Where to find J. A. Crook online
Books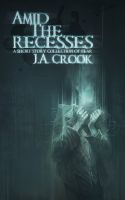 Amid the Recesses: A Short Story Collection of Fear
by

J. A. Crook
Price:
$1.99 USD.
Words: 64,040. Language: American English. Published: March 30, 2013. Categories:
Fiction
»
Horror
»
General
(5.00)
Amid the Recesses: A Short Story Collection of Fear explores primal human fear with stories of tragic loss, murder, psychological torment, the afterlife, mental perversion, hidden evils and dark taboo. The short story anthology shows us that the greatest fear is that within ourselves.
J. A. Crook's tag cloud