Jeff Beck
Biography
Jeff Beck is a new e-book author and freelance writer. He has been writing for many years, but "Spirit of '76" is his first novel. One of Jeff's short stories, "The Halls of Vulgad" was published online in the webzine, Pulp And Dagger Fiction and a compilation of his short stories is probably still doing its rounds with the internees at Valley State Prison For Women, where his work was well received. Jeff currently lives in San Dimas, CA with his wife Kathy.
Books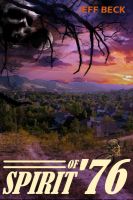 Spirit of '76
(4.67 from 3 reviews)
In the Summer of 1976, John Meyer befriends a mysterious boy only to learn soon after that his new friend has been found dead in the local foothills. When he learns it may not have been an accident, John is compelled by his own anger and sadness to follow the trail, even as it leads down a dark path he never imagined. As his enemies close in, John struggles to find the truth and to survive.
Jeff Beck's tag cloud