Jack Earl King
Biography
Jack Earl King was born in Seattle, Washington, raised on Hoods Canal, and graduated from High School in Seattle.

He joined the Air Force, then went to Los Angeles Engineering Tech.

He worked as an electronic field engineer in the United States and abroad until his retirement.
Books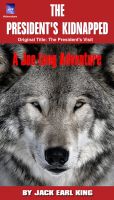 The President's Kidnapped
The President of the USA has been kidnapped! He's held in an abandoned lodge near Joe's cabin along with another victim, a beautiful raven-haired pilot. It's up to Joe to rescue them. Unfortunately, Joe has fallen in love and it's clouding his judgment.
Jack Earl King's tag cloud