James Conroy
Biography
James Conroy has managed several careers while writing the whole time.

In New York and Chicago he was a logistics specialist, editor, and regular contributor to literary journals. Previous novels gained notice in both The New York Times and Mystery Scene magazine.

Currently living in Newport, Rhode Island with his wife, Helen, James continues to consult on freight and distribution while tutoring English and creative writing and working on projects for future publication. Further exploits of Anita Gold and Ezra Paris are underway.
Books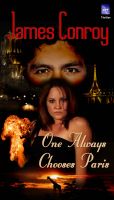 One Always Chooses Paris
From African lowlands to high finance, Anita's education merely began at school. Anxious to achieve, her path is daunted with vile machinations. How to make one's mark yet uphold principles? Answers come from close to home and a stranger experienced in the fight. With para-commander Paris at her side, Anita finds the way following her heart.