Jan Goopta
Biography
A person who has perhaps had more than the normal share of problems and relief. Once the floor broke down and he landed on the ground floor, unharmed and still asleep. Once the roof gave way after an unexplainable urge to return home and no harm was done except to the roof which had parted. A business failed and there was ultimate relief. After many lesser happenings, a total of eight escapes from death, and reliefs - came success - but they all provided room for thought. Perhaps it was pain which led to the feeling that this world is a better place, which led to the writing of this book.

A hard working person who at 75 is in perfect health can run the hundred yards and thread a needle, abhors medicine but is sometimes obliged to take them with more of a sour face than the taste. We would be happier if we could take life as simply. A firm believer in the goodness of mankind and the One who made them. We all have our shortcomings but He could never have intended it to be so. He gave us 'power' and we can use it in a better way. If this was not so, this book could never have been written.

The writer's feelings are expressed in just a few words. Nature has given us everything we need to make us happy. We have enough food, clothing and the ability to provide housing. The problems we face are our own making. We can undo what we have done. How we can achieve this has been put into the writer's words here.
Books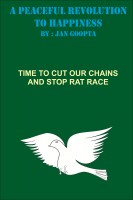 A Peaceful Revolution To Happiness
(5.00)
This book has had the good fortune to be evaluated by the renowned Greenleaf Book Group LLC of Austin, TX. "Your manuscript offers the reader a great deal of insight into a wide variety of issues that affect people on a global scale. It contains a generous amount of information that is relevant to a wide audience. Conclusion---has broad appeal and potential for powerful success in niche markets."
Jan Goopta's tag cloud