Jan Viljoen
Biography
I'm an Afrikaans speaking South African, living in the eastern region of the country near the Mozambican border. I'm a radio news editor, and write fiction and short stories as a hobby. I like to travel off-road in Mozambique, Namibia and Botswana. My other serious hobby is photography (check my pics at http://www.flickr.com/photos/mapaza). Im married with one wife and 3 children, one still in school. We have 5 dogs, 7 cats, 4 geese, rabbits (the number differs weekly!)2 parrots and one fish. I write mainly in Afrikaans, and hope all the thousands of Afrikaans speaking south Africans in the US, Europe, Australia etc will download my books for the kids to refresh their Afrikaans. All my works are being translated in English as well.
Where to find Jan Viljoen online
Books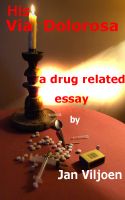 His Via Dolorosa
His Via Dolorosa" is a short and powerful, yet poignant essay about a father's crusade to find the truth and understanding of his child's drug addiction. In the process of seeking answers, the father relived Christ's crucifixion during an Easter long ago. But his experience was very different.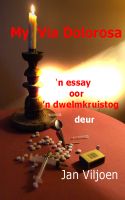 My Via Dolorosa
"My Via Dolorosa" is 'n kort en kragtige, maar aangrypende essay oor 'n vader se kruistog om agter die waarheid van sy kind se dwelmverslawing te kom. In die proses van antwoorde soek, het hy as vader die Christusverhaal tydens een Paasfees lank gelede op 'n ander manier beleef...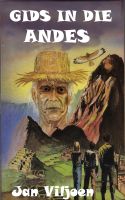 Gids in die Andes
Die bekende Suid-Afrikaanse argeoloog Professor Raymond Luck het in 'n droom opdrag gekry om na die graf van die heel laaste Sapa-Inka in die Andesberge te gaan soek. Die ekspedisie het Prof Luck, sy dogter Mandy en haar skoolvriend Tim Bergh in aanraking gebring met angswekkende avonture, vreemde karakters wat al meer as 400 jaar lank dood is en uiteindelik 'n rampspoedige einde.
Jan Viljoen's tag cloud